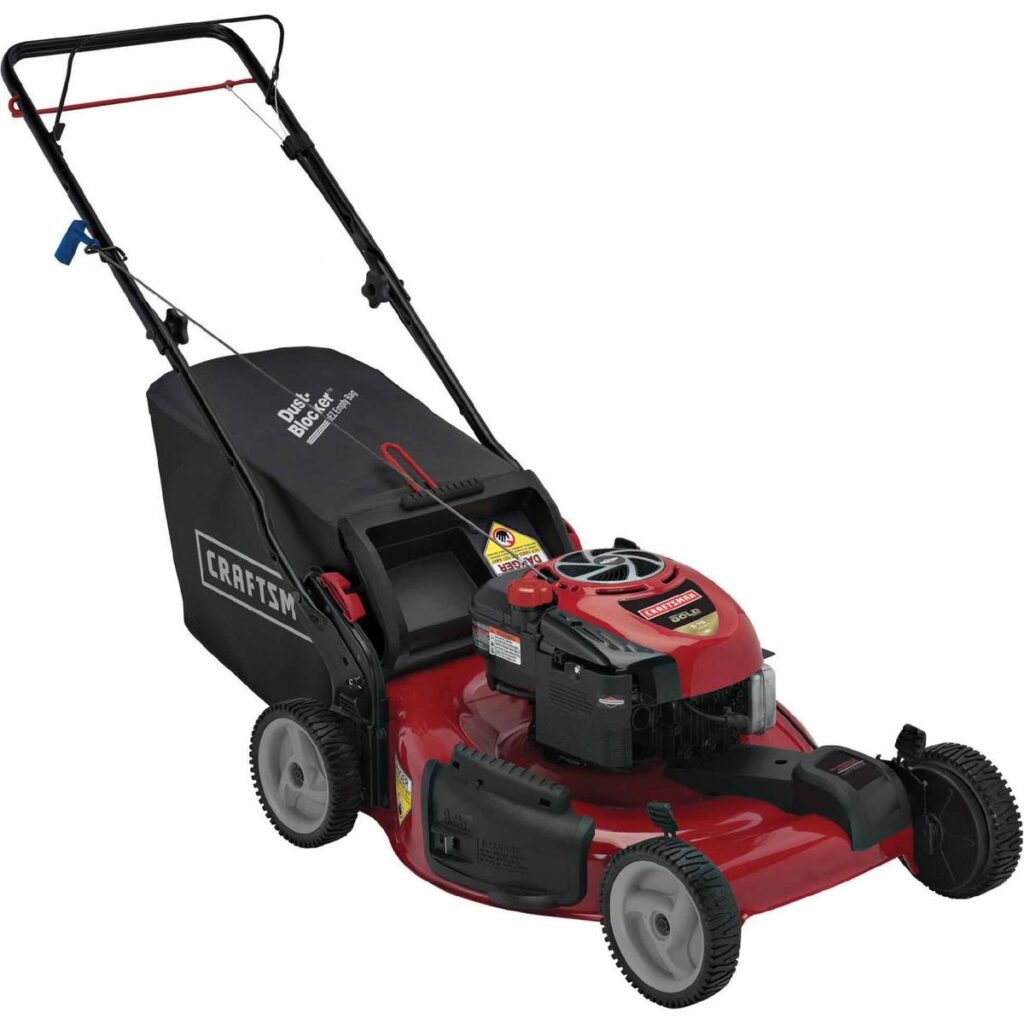 Craftsman 37041 Briggs & Stratton Gold Engine 22″ Front Drive Self-Propelled Lawn Mower
The Craftsman 22 inch Self Propelled Mower Delivers a Good-Looking Lawn
The Craftsman 190cc Front Drive Self Propelled Mower delivers versatility and toughness with a value that might just have you thinking lawn care isn't so bad after all. With a 675 Gold Series Briggs & Stratton engine with 190cc's of power, there's no denying this Craftsman mower has the guts to cut down just about any length of grass in its path. No only is the engine potent, but it's easy to start, too, thanks to Ready Start™ and Smooth Start™. Ready Start is a system that eliminates the need for priming and choking the engine so all you have to do is pull, which is about 20 percent easier than on other lawn mowers thanks to Smooth Start. The mower pulls its own weight, too, as it cuts its way across your yard with a variable speed gear drive system on the front wheels so it moves at the speed you want it to move – effortlessly. There's no more need to lean into the handle with all your weight to mow up hills or through thick or wet grass which not only makes this Craftsman lawn mower more comfortable, but safer, too.
Even with all of those comfort features, this Craftsman 22 inch Self Propelled Mower gets the job done and done well. Four height positions on the 22 inch high performance deck help you get the ideal look and feel you want on your lawn. Not only do you get to choose how thick and luscious you want your grass, but how to dispose of it as well by bagging, mulching or discharging the clippings. The bagger door automatically stays open to make removing the bag even easier and simply closes with a squeeze of the control ball. Mulching delivers highly important nutrients back to your lawn without the cluttered look of leaving the clippings behind. With so many features on this versatile mower, the hardest thing you might do is put it away – and Craftsman even makes that easy thanks to its folding adjustable handle.
Featuring a 22-in. high-performance deck, the Craftsman 190cc Front Drive Self Propelled Mower offers excellent bagging, mulching or discharging
675 Briggs & Stratton Gold Series 190cc* engine with Smooth Start (20% easier to pull); ReadyStart™** (no priming needed); and M.R.S.
Front drive, variable speed propelled drive system lets the mower do the work
EZ Bagging Access features a bagger door that stays open for easy bag removal
Dust-Blocker Grass Bag helps keep dirt away from user
Available in all 50 states
2-year warranty protects your investment
Made in USA
*As rated by the engine manufacturer
**Starting Promise: Briggs & Stratton Corporation warrants to the original owner, that select 550ex Series™, 675ex Series™, 725ex Series™ and Professional Series™ engines equipped with ReadyStart™ will always start on the first or second pull or we will fix it for free.